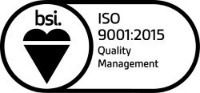 NSF International
Garrets International have partnered with NSF International, the leading global provider of public health & safety-based risk management solutions, to develop a Garrets global food safety quality standard. By registering your interest in being a supplier to Garrets, you will be asked to provide information on your food safety and quality management systems. Furthermore, we may ask NSF to conduct a physical audit of your premises.
It is expected that an Approved Supplier of Garrets International will demonstrate their commitment to improving food standards and food safety and will work with Garrets and NSF on an ongoing basis to achieve this.

Good Chicken and Good Egg Award
To help improve the quality of provisions on-board and contribute to improved welfare of the seafarers, we have introduced a policy of supplying free range chicken and eggs, sourcing sustainable fish, as well as products with a low content of salt, sugar and saturated fat.  These efforts were recognised in 2010, when we received a Good Chicken and Good Egg Award from Compassion in World Farming – a global animal welfare organization. Garrets will continue its strategy of sourcing ethically produced food products.
 
The Queen's Award for Enterprises
We are honoured to have received the Queen's Award for Enterprise: International Trade 2009 and again in 2014, the UK's highest honour for business success, in recognition of the steady and sustainable growth we have achieved.