Date: 16 October 2019
In July 2018, Kristina Kamatoy from Quezon, the Philippines, began her training at the Magsaysay Institute for Hospitality and Culinary Arts (MIHCA) in Manila. Kristina is the second beneficiary of the maritime education scholarship funded by Garrets alongside the Sailor's Society under the administration of the Homer Foundation. For more information, the full press release from 05 July 2018 can be found here.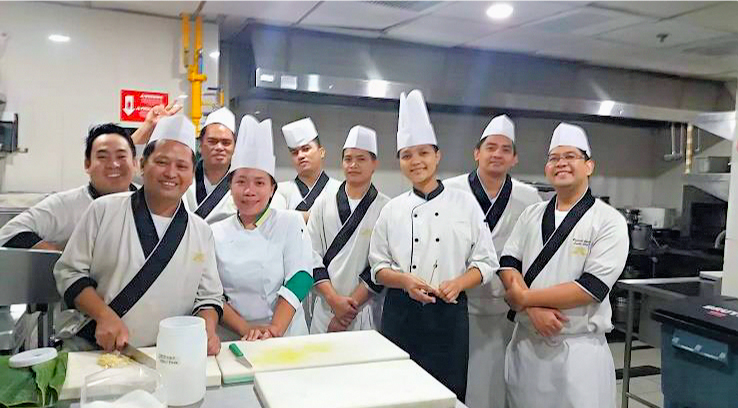 Kristina Kamatoy at the satellite department
Throughout Kristina's training at MIHCA, she learned different aspects of the culinary training in depth. For example, Kristina was assigned to a satellite department. Here, her training covered preparation and cooking of meats and seafood as well as cooking dishes, such as garlic buttered shrimp, Mongolian stir-fry, pasta, tinola and sinigang at satellite - a live cooking kitchen - meaning that the guests pick the raw ingredient which then will be cooked as per their liking.
Kristina was also assigned to the Yanagi kitchen in a Japanese restaurant, which ended up attracting her the most though she had zero knowledge of the Japanese cuisine beforehand. Kristina said:
"…The food preparations on a Japanese restaurant amazed me the most, the intricate preparations made on every plate. As you may know, Japanese foods are served slightly cooked and sometimes raw, despite that, they are still nutritious and delicious. I enjoyed every single day of my stay as a trainee at all the stations I am assigned with. But Yanagi kitchen attracted me the most and left a deep mark on my heart."
Kristina gained a lot of experience within the Japanese cuisine, including filleting of salmon and lapu, preparation of sushi vinegar, sushi rice, kappa maki and sauces, such as tempura, onmen, sukiyaki, aburi and many more. About this experience and opportunity, Kristina said:
"I am very thankful for such an amazing opportunity. I was trained by different experts in the industry and to me it's a big blessing. I was able to hone my skills and was able to learn a lot."
On June 19, 2019, Kristina graduated. She had completed her training and all other requirements for graduation – and today, she is ready to find a job and be part of the growing industry.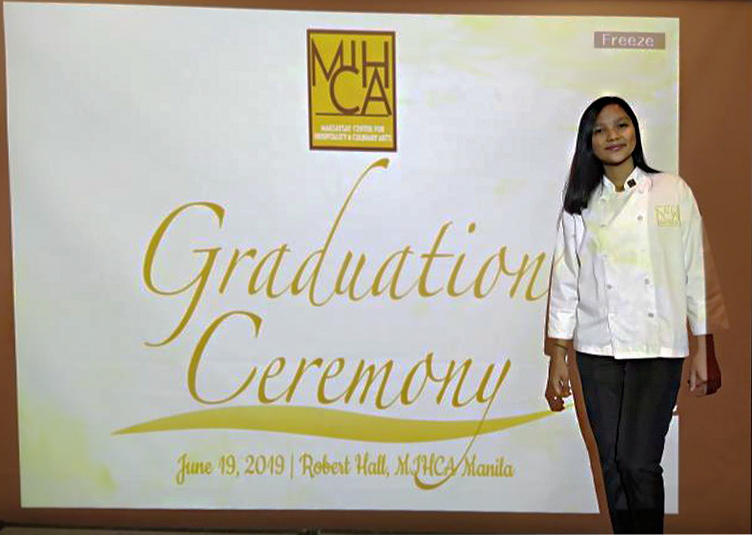 19-year old Kristina Kamatoy at graduation
Kristina continues to show her gratitude for the support of both Sailors' Society and Garrets International for providing her with this opportunity. She says: "To all the people whom extended their hands to me, thank you! I hope they can continue to help a lot more aspiring individuals."